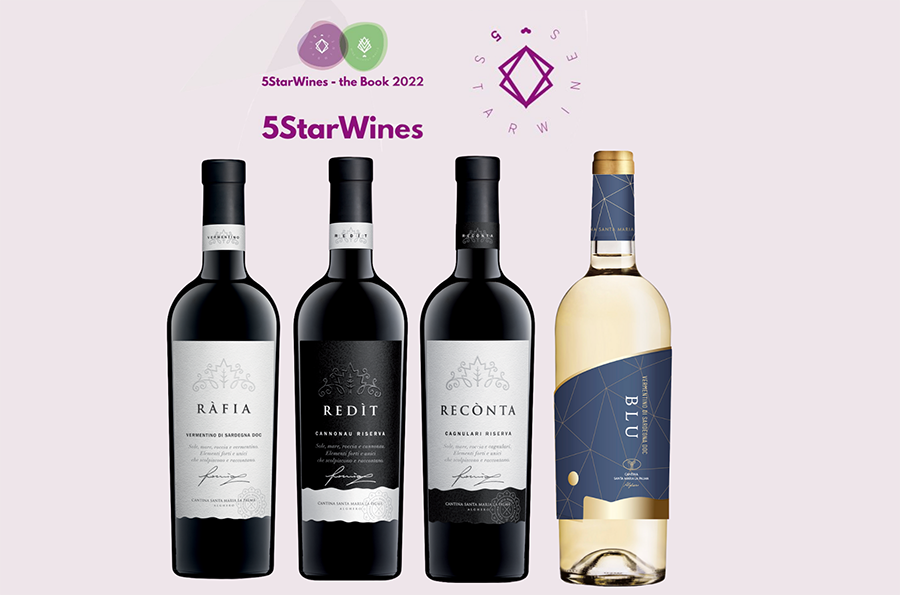 5StarWines, the competition dedicated to the best national wines organized during Vinitaly, awarded 4 awards to 4 wines from the Santa Maria La Palma Winery:
The Prestige line with its 4 large Rs (Ràfia, Redìt and Recònta) conquered the international jury of the competition as a whole, together with one of the wines we are most fond of: Vermentino Blu!
The four labels received scores equal to and above 90, ranking among the excellences that will be presented at Vinitaly 2022.
With four selected labels, our winery is among the most awarded Sardinian wineries in this competition: we sincerely thank the jury and congratulate all the other wineries that participated, raising the honor and quality of the wine of our island.
 La linea Prestige con le sue 4 grandi R (Ràfia, Redìt e Recònta) ha conquistato in blocco la giuria internazionale della competizione, insieme a uno dei vini a cui siamo più affezionati: il Vermentino Blu!
Le quattro etichette hanno ricevuto punteggio pari e superiore ai 90, classificandosi tra le eccellenze che saranno presentate al Vinitaly 2022.
Con quattro etichette selezionate la nostra cantina figura tra le cantine sarde più premiate in questa competizione: ringraziamo di cuore la giuria e facciamo i complimenti a tutte le altre cantine che hanno partecipato, portando in alto l'onore e la