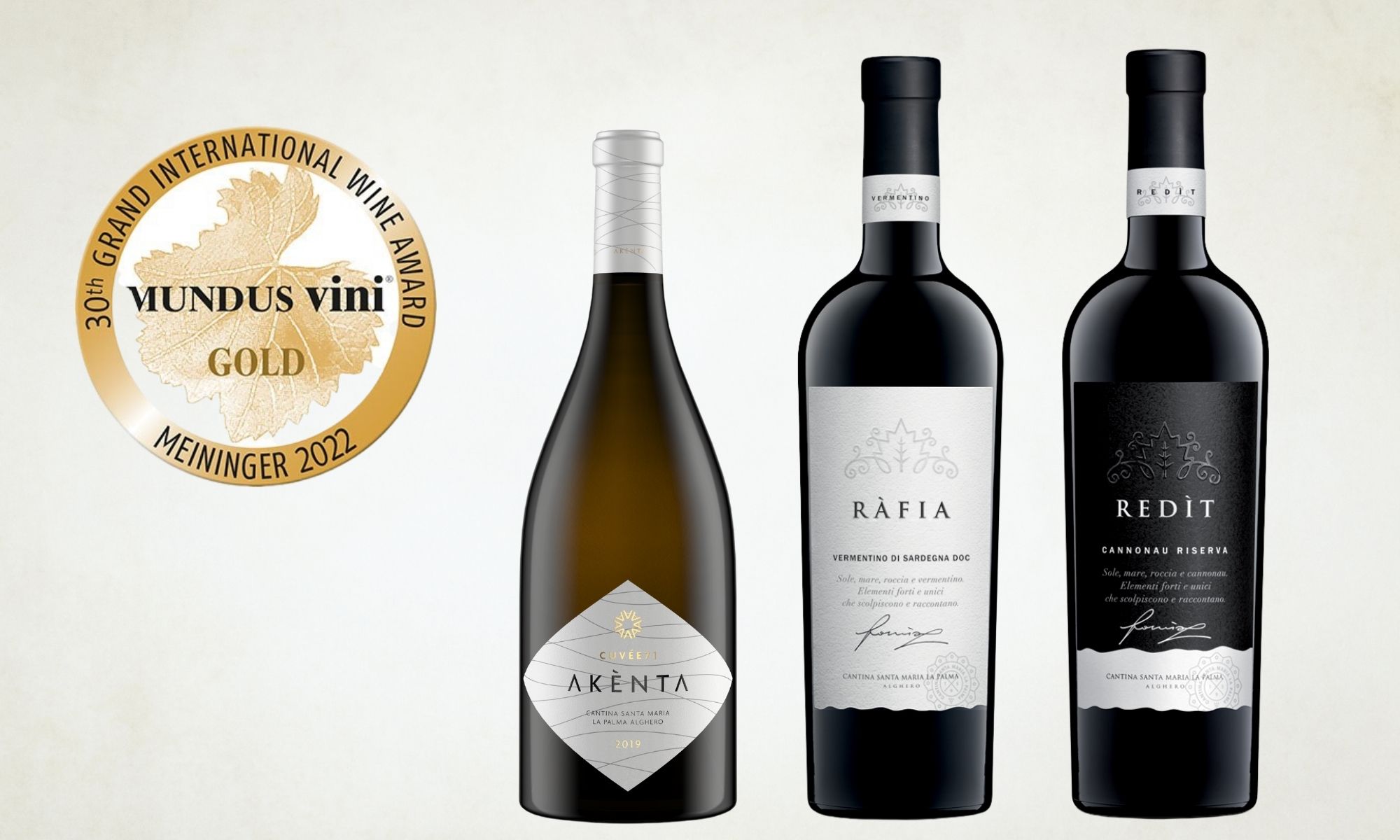 Akènta Cuvée, Vermentino Ràfia and Cannonau Riserva Redìt win the jury of the prestigious international wine award
Great success of the Cantina Santa Maria La Palma in the international wine competition Grand International Wine Award MUNDUS VINI. The Alghero winery has won three prestigious gold medals with three wines: Akènta Cuvée, Vermentino Ràfia and Cannonau Riserva Redìt, a prestigious international "hat-trick".
The authoritative MUNDUS VINI competition, now in its 30th edition, was founded by Meininger Verlag and immediately became one of the most important wine competitions in the world. Every year over 12,000 wines from all over the world participate in the competition and only some of them manage to pass the selection and win an important medal.
Cantina Santa Maria La Palma is proud of the prestigious placement of three of its different wines. "Winning three gold medals with three different labels is a great honor and it is a fact that fills us with pride" underline from the company. "We are particularly happy to see such quality awards assigned to two labels of our Prestige line, Cannonau Riserva Redìt and Vermentino Ràfia, together with Akènta Cuvée, a still wine that is conquering more and more people all over the world, bringing the magic of the Akènta line towards new goals.
These three medals are also an award for Alghero, a territory expressly dedicated to wine, which we have the task of enhancing more and more. In recent years, the Cantina Santa Maria La Palma has continued to invest in Alghero and in the culture of wine, as symbolized in the last by the opening of the new La Cantina wine shop right in the heart of our city, a space designed to taste wines and tell their story. .
The three gold medals received from an international competition confirm that this is the right direction ".
2021-22 is therefore confirmed as a golden period for the Alghero winery: the three gold medals at Mundus Vini follow the gold medal for Akènta Cuvée received at the Concours Mondial de Bruxelles 2021, the medal of gold at Cannonau Selection in the Grenaches du Monde and another important recognition on sales centered by Vermentino Aragosta, which is confirmed to be the best-selling DOC wine in Italy.
Mundus Vini organizes two selections every year. The first, the one in question, is held at the end of February in line with ProWein, a very important wine fair organized in Germany, a real meeting place for wineries and buyers from all over the world.
The Cantina Santa Maria La Palma wants to dedicate the three gold medals to all the members, who daily care and manage over 700 hectares of vineyards, to the team of our cellar itself and to all the people who choose the wines of the company from Alghero every day.