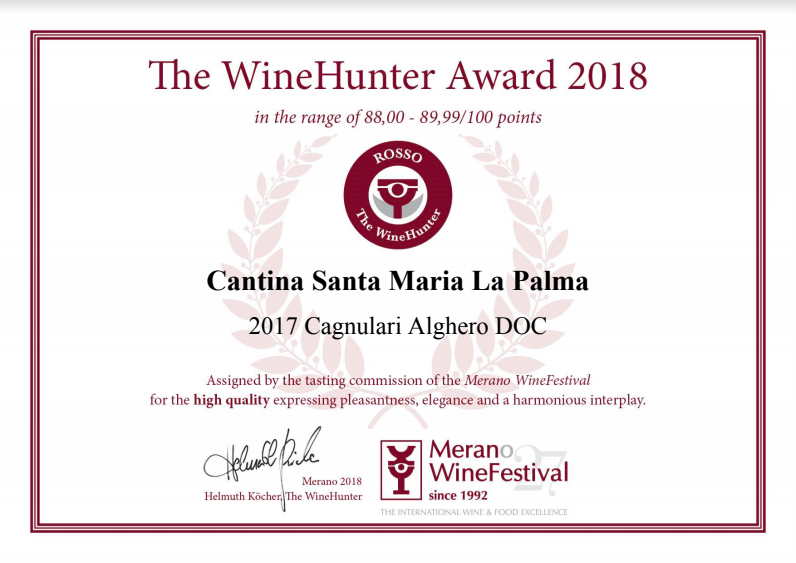 Vermentino, Cannonau and Cagnulari: three wines from the Santa Maria La Palma Winery have received the Wine Hunter Award of Excellence, a special title given as a guarantee of products that stand out for their territoriality and superior quality.
The three awarded wines are:
Cannonau Riserva DOC 2014
Cagnulari 2017
Vermentino Papiri 2017
The three wines, flagship products of the winery, represent excellent products from the processing of three grapes on which the company aims a lot: the Vermentino, which represents the majority of the production of the Santa Maria La Palma winery (in the case of Papiri , Vermentino di Sardegna DOC), Cannonau (with Cannonau Riserva, already awarded with prestigious awards in recent years) and Cagnulari, produced from a typical vine grown in the surrounding area of ​​Alghero.
Thanks to this recognition, the wines will be able to take part in the Merano Wine Festival 2018.
The Wine Hunter Award represents an excellent recognition for the company and for the territory of Alghero, increasingly dedicated to a production of excellence.
The president, the staff, the management and all the employees of the Santa Maria La Palma winery are extremely satisfied with the results achieved, the result of the commitment and daily work of the more than 300 members who cultivate more than 700 hectares of vineyards in the northwest of the Sardinia.