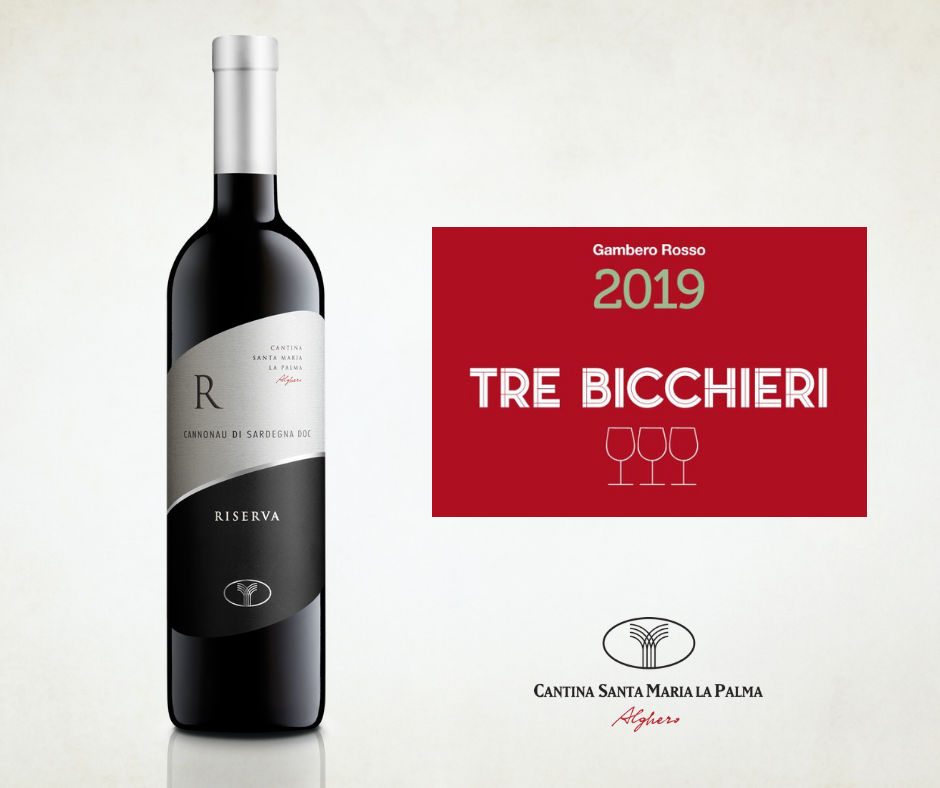 The wine from the Santa Maria La Palma winery has received one of the most important national awards.
Excellent news for the Santa Maria La Palma Winery: its Cannonau Riserva 2015 has received the prestigious "Tre Bicchieri"(Three Glasses) in the Italian Wine Guide 2019, organized by Gambero Rosso.
The Tre Bicchieri Gambero Rosso represent one of the most important awards in the world of Italian enology, awarded each year to the wines of excellent quality.
The committee that awarded the wine of the winery in Alghero underlined the original taste of this Cannonau, calling it "very good", also highlighting the role of cooperative wineries, able to offer wines very well made and with an advantageous quality-price ratio, confirming how currently cooperative wineries are able to make the diversity of cultivated land an important added value.
The Cannonau Reserve of the Santa Maria La Palma Winery is a Cannonau of Sardinia DOC produced from grapes grown in the historic vineyards of Guardia Grande, Villassunta and Porto Conte. The grapes are selected by hand through careful manual harvest and then left to macerate at controlled temperatures. The wine continues its maturation process in oak barrels and barriques, which give the final product an elegant, robust and harmonious taste, enhanced by the final refinement carried out in the bottle.
The Three Glasses, which succeed to other recent awards such as the Gold Medal at the Berliner Wine Trophy and the Silver Medal at the Asia Wine Trophy, confirm the great value and vocation of a territory like that of Northern Sardinia and Alghero , in which the Cannonau can express its potential, presenting many different facets to be enhanced.
The company announces to be particularly happy and proud for this important recognition, the result of the careful and constant work of the members, who daily take care of the 700 hectares of vineyards, combined with the work of all employees and collaborators of the cooperative.
The excellent result rewards the great teamwork and the great dedication and love for this area that enhances the characteristics of the grapes.