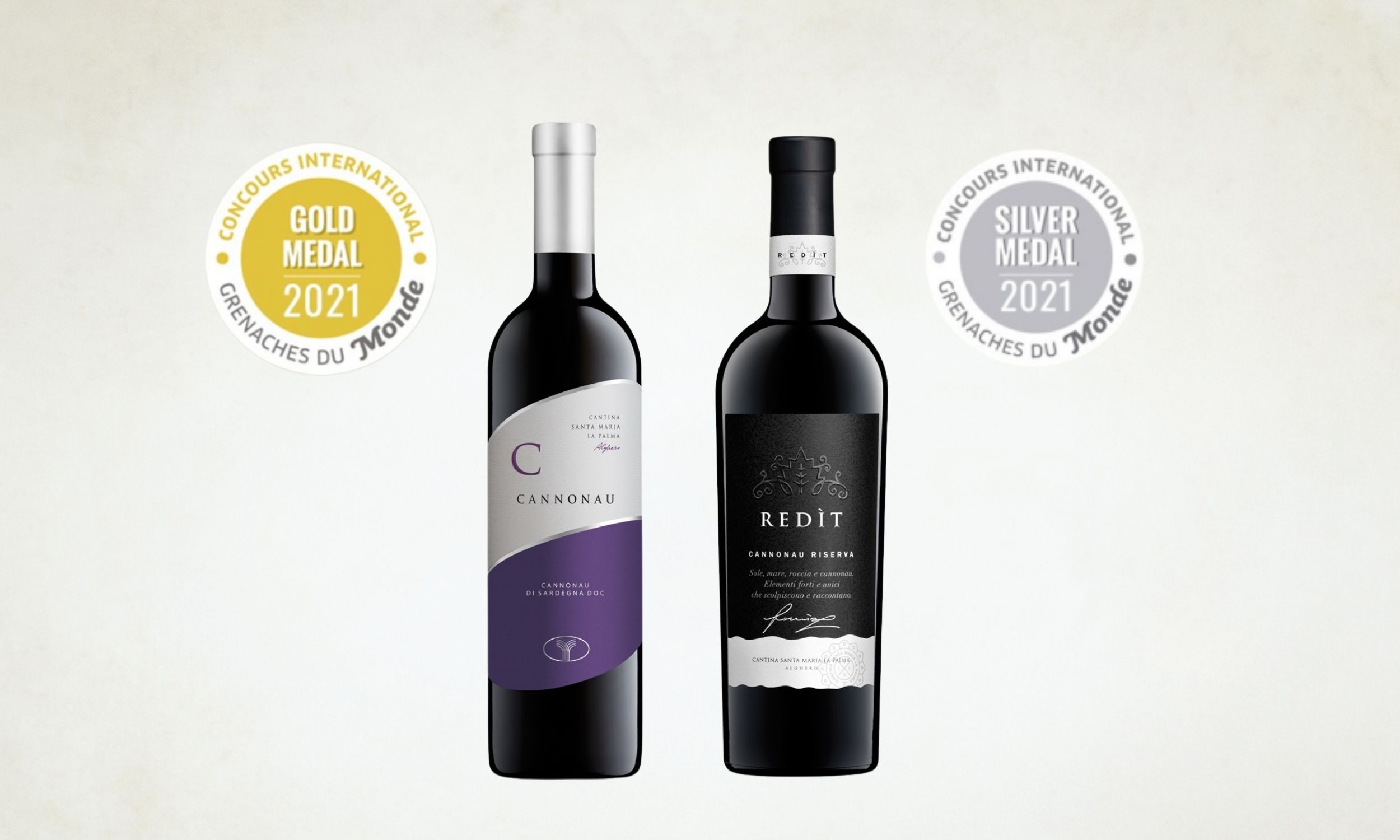 Gold Medal for Cannonau Selection and Silver Medal for Redìt Cannonau Riserva
Double prestigious award for two wines from our cellar: Cannonau Selezione and Redìt Cannonau Riserva have received two important medals in the Grenaches du Monde 2021 competition, a competition reserved for labels produced from vines of the Grenache type, the family to which Cannonau belongs.
The Cannonau di Sardegna Selezione 2018 of the Cantina Santa Maria La Palma received a prestigious gold medal, the second in a row: this wine was awarded another gold medal during the Grenaches du Monde 2020. The bis certifies the high quality of the label and highlights the importance of continuity in the excellence of the selected grapes and production. The bunches from which Cannonau di Sardegna Selezione is born are harvested by hand, to guarantee the choice of the best grapes. The wine, after a careful and skilful vinification, completes its maturation in Allier barriques. The final refinement in the bottle is essential, as it helps to enhance its valuable characteristics. The wine stood out for its perfume, ruby ​​color, velvety, soft flavor, with evident notes of fine wood.
Alongside the Cannonau Selezione here is the Redìt Cannonau Riserva 2017, which obtained an important silver medal. An award that once again underlines the high level of this wine, belonging to the Prestige Line, launched on the market only two years ago with three wines – Ràfia Vermentino di Sardegna, Recònta Cagnulari Riserva and Redìt – which in a short time are always conquering more passionate.
Grenache du Monde is a very important international wine competition, which hosts wines from all over the world every year.
The double award is a source of great satisfaction for the Cantina Santa Maria La Palma, the result of the careful work of its 300 members, followed by the company and its staff of technicians and experts.
An award that the winery wants to dedicate once again to Alghero and Sardinia, in such a special moment.
For information about our wines and to buy and receive them comfortably at home, you can visit our ecommerce.