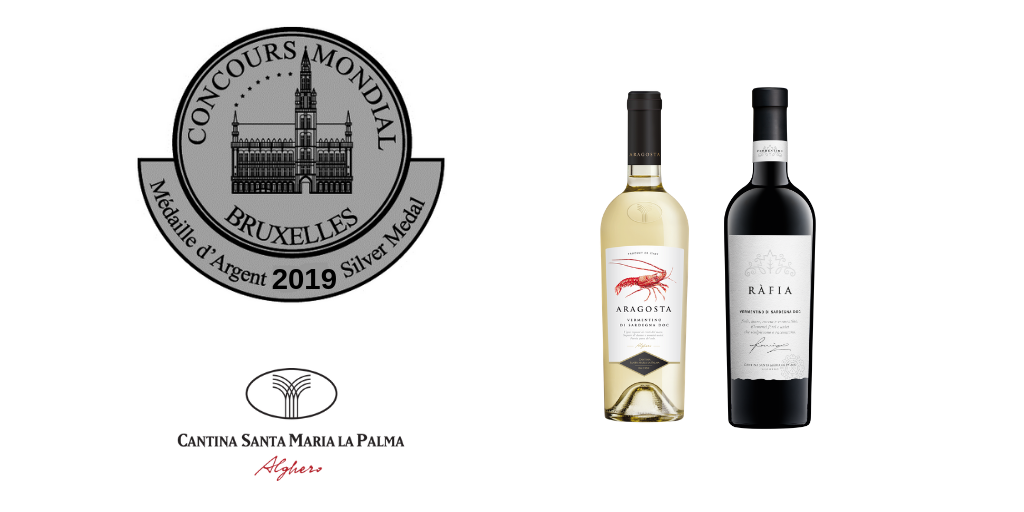 The Vermentino di Sardegna DOC Aragosta (2018) and the Vermentino di Sardegna DOC Ràfia (2017) have recorded excellent results during the Concours Mondial de Bruxelles, an important wine show that for over 20 years has rewarded quality wines from all over the world. Both wines received a silver medal which attests to their quality and value.
The silver medal at the Concours Mondial de Bruxelles for the Vermentino Aragosta represents a very important prize for one of the most representative products of the gastronomy and of the wine production of Alghero, a historical label distributed by the Cantina Santa Maria La Palma throughout Sardinia and in the world.
For this wine it is a new important international recognition, which follows the prestigious consecration received by Wine Spectator at the end of 2018, with the inclusion of Vermentino Aragosta among the 100 best wines in the world for value for money.
Important recognition also for the Vermentino di Sardegna DOC Ràfia, the new label of the company that receives the first international medal. The Vermentino Ràfia, launched on the market in November 2018, immediately saw great appreciation from the public due to its quality and elegance, given the choice of grapes and the special processing in oak barrels. The quality of this product has been further certified by the prestigious award received in the Concours Mondial de Bruxelles.
The event, held in the beautiful town of Aigle, in the Valle de Rodano in Switzerland, between mountains, vineyards and lakes, was attended by the best wineries from around the world, whose wines were tasted and evaluated by an attentive sommelier committee, experts and important personalities from the world of wine.
The president, the staff, the management, the members and all the employees of the Santa Maria La Palma winery are satisfied with the result achieved, confident of the great possibilities for growth and improvement that still exist.